Sustainable development
Sustainable development was defined by the World Commission on Environment and Development (Brundtland Report) as early as 1987 as follows: Sustainable development is development "that meets the needs of the present without compromising the ability of future generations to meet their own needs and choose their own lifestyles." We see it as our task to contribute to sustainable development by:
develop state-of-the-art devices that are optimized in terms of low material and energy consumption,
design our development processes to be environmentally friendly and to conserve resources,
develop products that enable our customers to install and operate in an effective manner.
Quality Assurance
Certification
Since 01.07.1997 Teleconnect GmbH has been certified according to DIN EN ISO 9001 for the scope "Development of assemblies and systems for communications and data transmission technology, production of prototypes".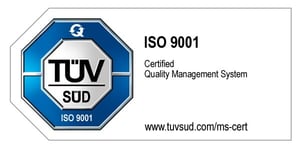 Certification according to IATF 16949:2016 is in preparation.
Project planning and project monitoring
We use MS Project to create project schedules.
Procedural instructions for the QM manual regulate project tracking and documentation of the development stages.
The safeguarding of development results and data is ensured by extensive measures for central data storage and data backup at a high level.